Rigor Champions and Resources
Rigorous experimental procedures and transparent reporting of research results are vital to the continued success of the biomedical enterprise at both the preclinical and the clinical levels. See below for more information on efforts to catalyze champions of rigorous research and compile resources for performing rigorous research.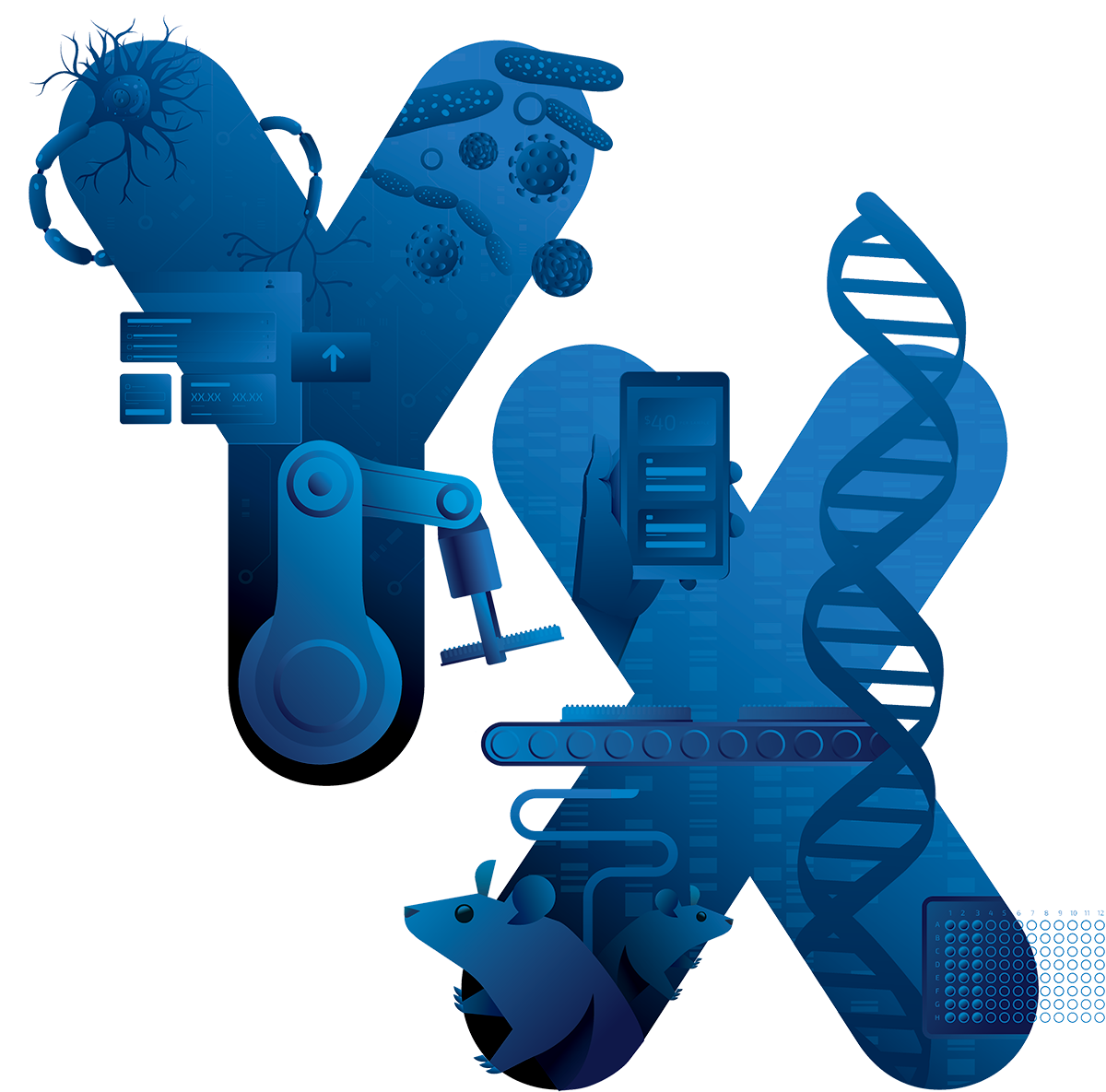 WHAT WE DO
Welcome to the future of rigor and reproducibility in research.
We've built an entire suite of services to help streamline the efficiency of research so that you can focus on what matters most – research that leads to discovery. A dedicated team of people supports each service with a dedication to delivering an exceptional experience.
Automated Genotyping

Microbiome Analysis

Genetic Monitoring

Colony Management Software

Transnetyx Tissue
Automated Genotyping
The world is counting on your research — and you need genotyping data to move it forward.
That's why we've worked to make this time-consuming task simple, quick, and efficient. We automate the process with reliable accuracy, so you know your valuable colonies are only comprised of experimentally sound animals.
Streamline your breeding schema to advance human health faster.
Microbiome Analysis
Microbiome changes can be easily overlooked in research.
That's a critical error, because shifting gut microbiota can actually affect the phenotypes of your animals. And with the world watching and waiting for your next breakthrough, it's not a mistake you can afford to make. We use shallow-shotgun sequencing to help you capture the data behind your animals' microbiomes — especially after changes in bedding, diet, or location.
Easy, affordable analysis.
Genetic Monitoring
The background of your animals is a variable you cannot ignore.
Our detailed MiniMUGA test, developed by researchers at UNC Chapel Hill, provides an in-depth look at your animals' full background strains (or substrains), ensuring a responsible, informed approach to your research. These insights can help you confidently reach publication significantly faster.
Each test is only $40 per sample — well below any comparable tests in-market
Colony + AMI Software
Reproducible research requires responsible data management – and it's free with Transnetyx.
Transnetyx Colony is a free software that allows you to record mouse data and move them between cages with a simple drag-and-drop process. All information is stored and automatically updated on the cloud to improve communication between labs. This simple management tool helps you ensure your data can be used again in the future. When widely adopted, it creates exponential efficiency across entire institutions.
Plus, AMI proactively monitors goals, providing alerts and recommendations for your animal colony.
Transnetyx Tissue
The faster you can reach discovery, the faster you can advance human health.
Our tissue service is built to save the time needed for microsurgery, providing the exact piece of fresh, never-frozen CNS tissue you need overnight. By avoiding the freezing process, we're able to offer tissue with more viable cells, giving you the best possible sample for your research.
Get more viable cells from your tissue without performing microsurgery.
MICROBIOME ANALYSIS
Whitepaper - The Importance of Microbiome Characterization in Research Reproducibility.
Numerous studies have demonstrated that changes in the microbiome can cause phenotypic differences within an experiment or across experiments, and that this may lead to the misinterpretation of results.
Read more
GENETIC MONITORING
Whitepaper – The Importance of
Monitoring Genetic Background in Inbred Mouse Colonies
Multiple studies have demonstrated that phenotypic differences between mutant and control mice can be the result of variance in the genetic background, and that this may lead to misinterpretation of results.
Read more
I realized I have been setting up the crosses a lot faster, because I got the genotyping results a lot faster. Everything was in the system, so I knew exactly which mice to pull and which to cull. The Colony system made it very easy and it just became second nature. When you multiply this by strain, it adds up very quickly.
We, meaning the entire med school research community, have run out of space to house animals. With lots of research dollars coming in to continue our work but with no space to expand, we needed a better way to manage our colony. Your software and the integration with the genotyping service was the answer.